When it comes to short hotel bookings, are you a DIYer?
If so, The Luxury Travel Agency has some great news! You can now book some of our 2,000 Partner Hotels whenever you want. Our prices should be the same as you find anywhere else, but with us, you typically get over $100 in added value and benefits! Plus, VIP Status!
If you're chilling at home on a Saturday night and decide you want to book one of our luxury Partner Hotels or Resorts, now it's possible!
Can't sleep and you're laying in bed dreaming of a quick getaway? You can book one of our luxury Partner Hotels or Resorts then, too!
Maybe, it's a holiday, or better yet, you're on holiday or live in a different time zone and our office is closed. Not to worry, you still have access to over 1,500 luxury hotels and resorts you can book on your own and still get all the added amenities and benefits we offer.
Added Amenities and Benefits at our Partner Luxury Hotels and Resorts
Need a reminder of what they are? They vary from property to property but you generally get:
Room Upgrades, when available
Free Daily Breakfast included for two
Hotel or Resort Credits
Complimentary Spa Services
Early Check-In/Late Check-Out
Free Wi-Fi
Custom Welcome Amenity
VIP Service
Through the Virtuoso online booking tool, you can now peruse countless luxury hotels and resorts around the world (at YOUR leisure), compare properties and destinations and book your stay WITH ALL OF OUR VALUE ADDED AMENITIES AND BENEFITS.
While we love making reservations for clients, we also know being able to compare hotels on your own device and making reservations at your own convenience is super important during our busy lives. Now you have the power to do it 100% on your own or have us do it for you; it's really the best of both worlds!
Here's how to get started:
Step 1: Create an Account and Sign In
Click HERE to access your personalized Virtuoso booking site.
At the top right-hand corner, you'll either need to create an account (quick and easy) or sign in.
A pop-up (shown below) will appear, where you'll choose me (Andrew Satkowiak) as your advisor.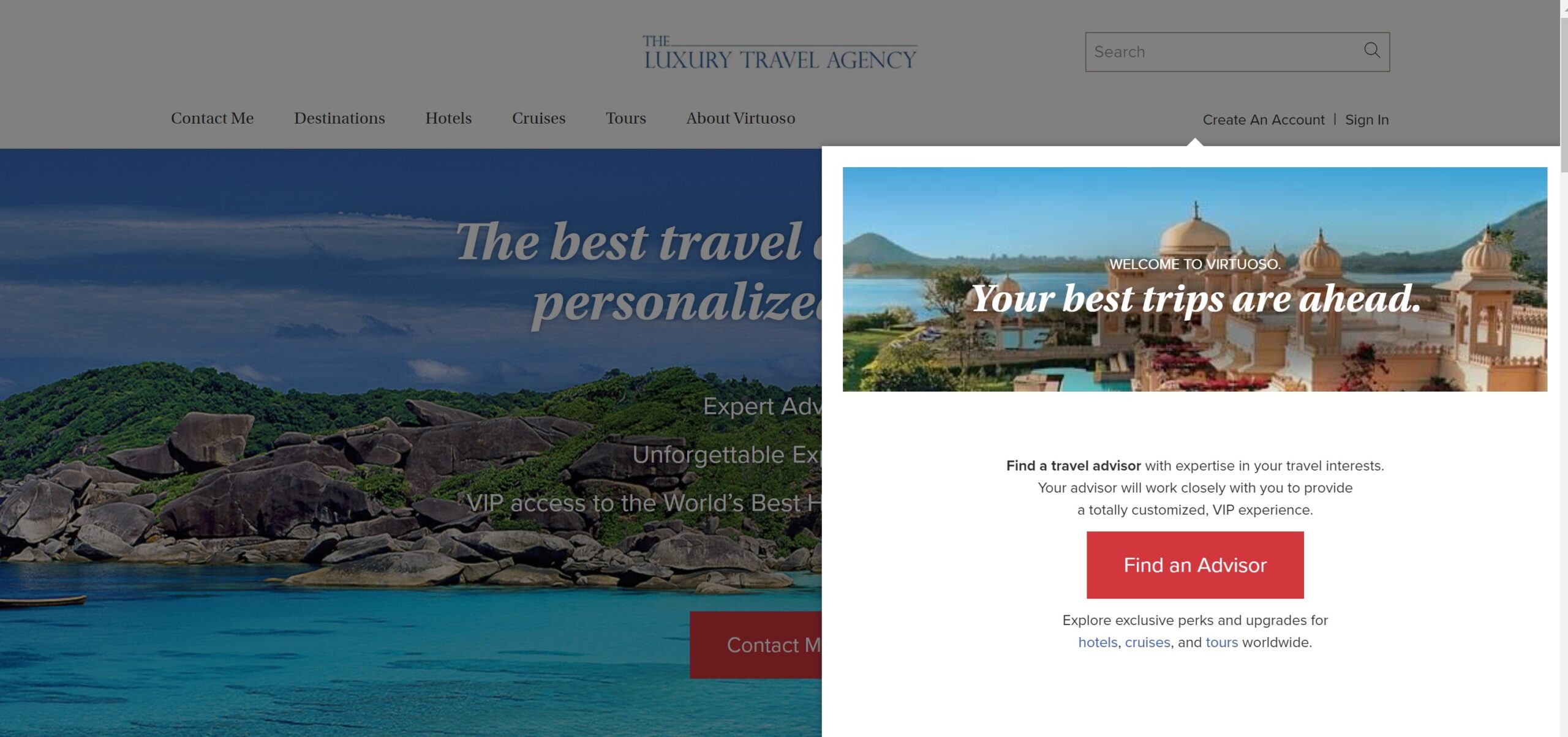 Step 2: Book Online
If you know the hotel you're interested in, click on "Hotels" at the top of the web page, then enter your dates and preferences. If you want to explore more options, click on Destinations then select your country of choice.
Once you confirm your hotel booking, we'll get an alert and we'll follow-up with you to let you know we've received your booking. Then we will follow up with our contacts at the property to make sure you are well looked after and that you get all the value-added amenities, benefits and VIP Status.
Could it get any more simple? If you find you need to cancel or change your reservation, contact us and we'll be happy to call on your behalf.
While we partner with over 2,000 luxury hotels and resorts around the world, not all of them are available for self-booking. But don't worry, we are just a click away. Contact us anytime and we will get back to you within 24 hours.
If you don't find the hotel or resort you are looking, click here to browse through our complete list of our Partner Hotels and Resorts. We are always happy to get you a formal quote and make any bookings for you.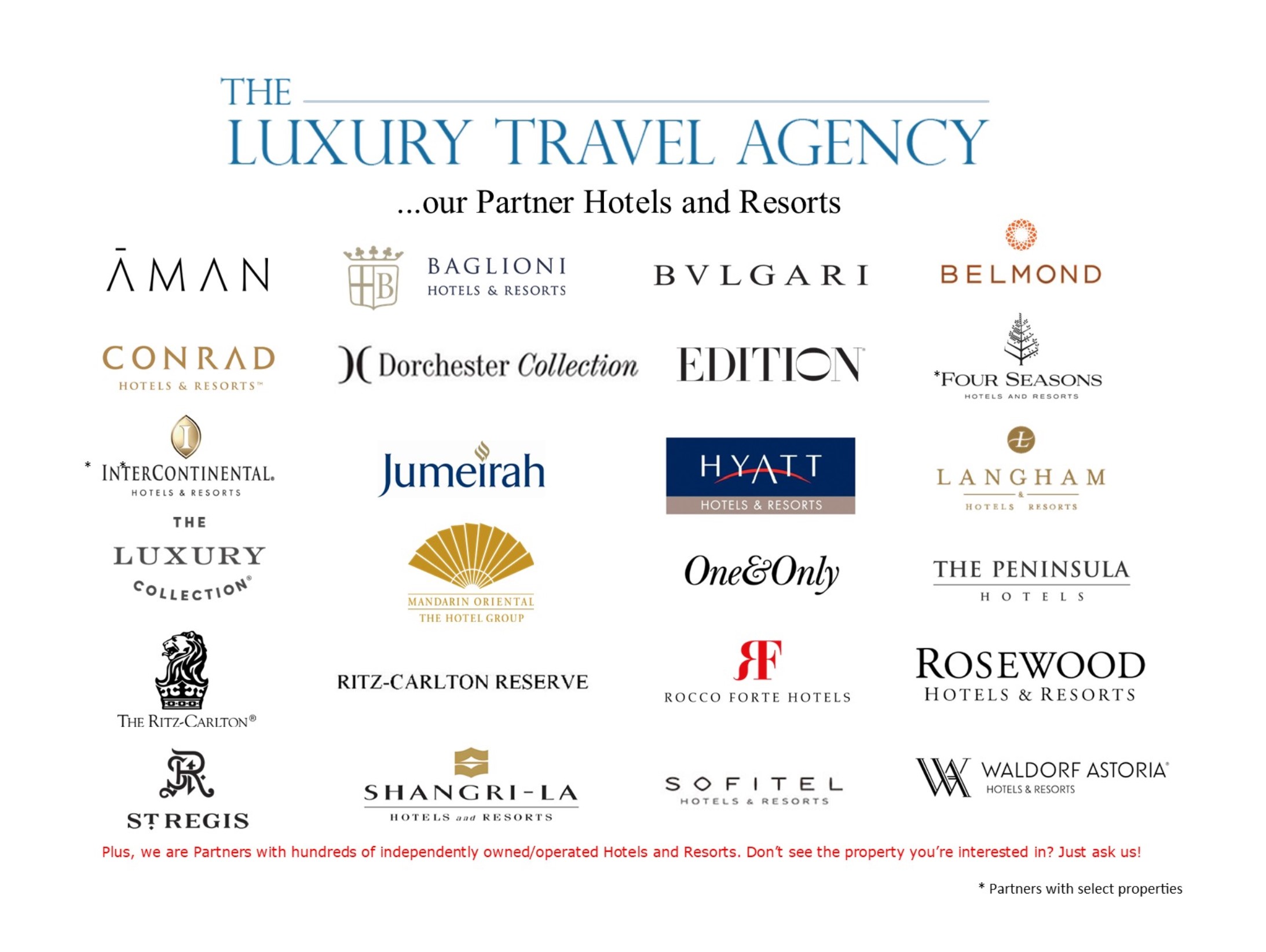 We hope this self-booking tool makes your travel planning a bit easier. And remember, when you book with The Luxury Travel Agency, you should always get the best price, value-added amenities and benefits and VIP Status, and there is no added cost!
Lastly, for more complex trips or when just don't know where you want to go or what you want to do, we offer full Trip Consultation and Planning Services. No trip is too big or too small!
We look forward to working with you and know that once you book with the LTA and experience the difference, you'll never want to book another way!