Luxury Travel in St. Barth | The Luxury Travel Agency
St. Barth
Looking to be where the rich and famous go-to vacation like Beyonce & Jay Z and the Kardashian/Jenner clan, then look no further as St. Barth's is the island for you.  Don't let the size of this 25 km² island fool you as you will have an abundance of beach-hopping, eating, drinking, shopping and yachting to do, The Luxury Travel Agency highly recommends this island as a must-visit if you are looking for some rest and relaxation as well as some fun party time!
With on average only about 60 days of rain per year and with temperatures averaging 25-30º C year-round, this is the perfect destination for you to visit.  Since the tradewinds bring refreshing breezes throughout the whole year summertime is not going to be as hot as you would think so it makes summer a great time to visit as resort rates will be lower and will be slightly less crowded.
If you are in St. Barth you must visit Nikki Beach on a Sunday, they take two seating times for lunch and the party starts there around 14:00, it is like being at a club on the beach, with loud music, drinking and dancing on the tables, everyone is having a blast!
The Luxury Travel Agency's favorite hotels in St Barth's are; Cheval Blanc, Le Toiny and Le Sereno.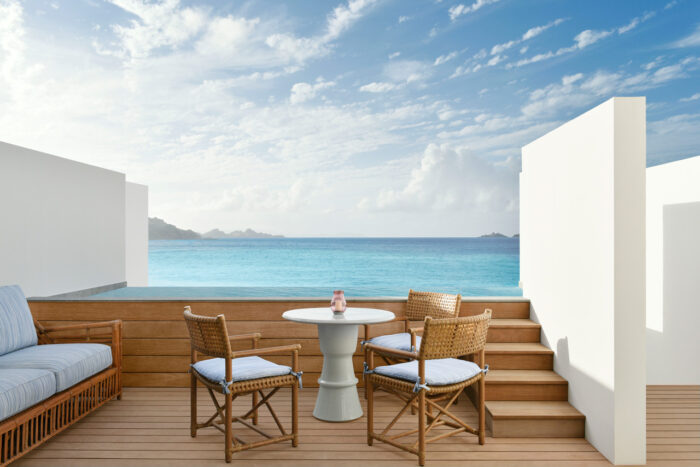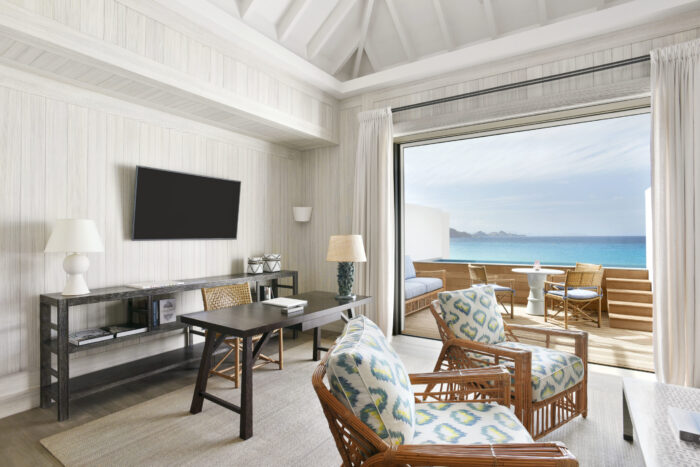 Cheval Blanc gives you a real sophisticated beach feel, they have a wide variety of room choices to choose from there will be the perfect fit for everyone, but their Hillside Bungalow is truly special, perched up in the hills with you own private pool and a 180-degree view of the ocean, you can't get much better than that!
Le Toiny is truly a special boutique property with only 22 rooms they are all very large and spacious and contemporary in design, plus every room has it's own pool the perfect place to be if you wish to have a little peace and quiet.  Did you make your way to the beach and forget your favorite beach wrap?  No Problem, Le Toiny has a boutique located at the beach club with high-quality brands that follow the current fashion trends.
Le Sereno is a really beautiful property, with their wooden design in the rooms it gives you a bit of a rustic experience, yet they still offer you the 5-star luxury service!  If you are traveling with a family they have gorgeous 4-bedroom villas that will be perfect for your family.  Looking for a bit of water adventure as well, Le Sereno sits on Grand Cul de Sac and is known for its great kite surfing, you can catch the action right outside your room!
St. Barth is also home to some great restaurants such as; L'Isola, Bonita, Le Tamarin, Bagatelle, L'Isoletta and much more!  Looking for a little bit of romance?  Make your way to Colombier Beach, a 30-minute walk from the main road but it will be worth your wait, the beach is located just beyond a rocky hill and is a lovely location to get away and enjoy a little bit of alone time, you can have to hotel concierge pack a picnic that you can enjoy there, truly a little slice of heaven!
Feel like getting out on the open seas?  Charter a yacht for the day, The Luxury Travel Agency works with the best charter companies in St. Barth and can arrange to book a yacht for the day to explore the stunning island of St. Barth, with massive corals (often in full bloom) and an array of multi-colored fish, St. Barth is a great location to do some snorkeling or Scuba Diving.  You can also charter a yacht for the day and visit the neighboring islands of St. Maarten or Anguilla.