Six Enchanting Destinations for Unforgettable Travel Experiences.
As October unveils its colorful tapestry of autumn hues, travelers seeking captivating destinations are in for a treat. Whether you're drawn to vibrant festivals, breathtaking natural landscapes, or historical marvels, this month offers a plethora of possibilities for memorable journeys. The Luxury Travel Agency presents six exceptional places that will ignite your wanderlust and create unforgettable experiences in October.
Kyoto, Japan – Immerse Yourself in Ephemeral Beauty:
October transforms Kyoto into a mesmerizing wonderland, where ancient temples and gardens are drenched in a riot of vibrant colors. Explore the breathtaking fall foliage, known as "koyo," at iconic sites like Kiyomizu-dera and Arashiyama's bamboo groves, where shades of red, orange, and gold create a captivating spectacle. Take leisurely strolls along the enchanting Philosopher's Path, lined with picturesque cherry trees, and find serenity in the Zen gardens that dot the city. Immerse yourself in Kyoto's rich cultural heritage by partaking in traditional tea ceremonies, donning a beautiful kimono, and venturing into the historic Geisha district of Gion. Indulge your taste buds with Kyoto's renowned cuisine, from delicate kaiseki meals to flavorful street food, and witness the seamless fusion of traditional and modern Japan in this captivating city.
Enhance your Kyoto experience at the Four Seasons Kyoto, an unparalleled luxury retreat nestled in the heart of the city. Immerse yourself in the epitome of Japanese hospitality as you soak in the vibrant fall colors from the elegant surroundings. Experience spacious and elegantly appointed rooms blending contemporary comfort with traditional elements. Delight in the hotel's serene gardens, designed to reflect the essence of Kyoto's Zen philosophy. Indulge in exquisite dining options where culinary artistry and flavors tantalize your taste buds. Whether unwinding in the spa or exploring the city's cultural treasures, the Four Seasons Kyoto ensures an extraordinary stay, combining the allure of autumn in Kyoto with unparalleled luxury.
Cape Town, South Africa – Springtime Splendor:
October brings the arrival of autumn in the Northern Hemisphere, but in the Southern Hemisphere, it ushers in the awakening of spring. Cape Town, South Africa's crown jewel, comes alive with an explosion of blossoms, providing a breathtaking backdrop for your travels. Marvel at the vibrant colors of the world-famous Kirstenbosch Botanical Gardens, nestled against the majestic Table Mountain. Embark on exhilarating hikes along the Cape Peninsula, where rugged cliffs meet the sparkling waters of the Atlantic Ocean. Immerse yourself in the charm of the historic Bo-Kaap neighborhood, renowned for its brightly painted houses and rich Cape Malay culture. Indulge in the diverse flavors of Cape Town's culinary scene, from fresh seafood to fusion cuisine, and savor world-class wines in the nearby Cape Winelands. Embrace the energy and warmth of this multicultural city, where the splendor of nature harmoniously intertwines with vibrant cultural experiences.
For a truly luxurious retreat in Cape Town, immerse yourself in the enchanting Mount Nelson, a Belmond property. Nestled at the foot of Table Mountain, this iconic hotel offers an oasis of tranquility amidst the vibrant blossoms of spring. Experience a haven of refined elegance and impeccable service as you indulge in the hotel's luxurious amenities. Delight in spacious and beautifully appointed accommodations, providing a serene sanctuary after a day of exploration. Explore the hotel's lush gardens, where blooming flowers and aromatic scents create a peaceful ambiance. Indulge in delectable culinary offerings at the hotel's renowned restaurants, featuring a fusion of international flavors and local delicacies. Whether you're relaxing by the poolside, rejuvenating at the spa, or immersing yourself in Cape Town's vibrant attractions, Mount Nelson ensures an unforgettable and luxurious experience, capturing the essence of this remarkable destination.
Marrakech, Morocco – A Tapestry of Sensory Delights:
Escape to the vibrant city of Marrakech in October, where scorching summer temperatures give way to pleasant weather, creating an idyllic atmosphere for exploration. Lose yourself in the bustling souks of the Medina, navigating through narrow streets filled with vibrant textiles, intricate pottery, and aromatic spices. Marvel at the opulence of the Bahia Palace, an architectural masterpiece adorned with stunning mosaics and tranquil courtyards. Explore the serene beauty of the Jardin Majorelle, a botanical oasis with vibrant blue buildings nestled amidst lush greenery. Indulge in the flavors of Moroccan cuisine, from fragrant tagines to freshly baked pastries, and savor traditional mint tea in a bustling café. As the sun sets, immerse yourself in the magical ambiance of Djemaa el-Fna square, where the sounds of storytellers, musicians, and street performers fill the air. Marrakech promises a sensory journey that will leave you spellbound.
Enhance your Marrakech experience by staying at the Four Seasons Marrakech, where unparalleled luxury awaits. As October brings pleasant weather, this luxurious oasis amidst the vibrant city becomes even more captivating. Wander through the enchanting gardens of the hotel, enveloped in lush greenery and fragrant flowers, creating a haven of serenity amidst the bustling surroundings. Immerse yourself in luxurious accommodations, where elegance and comfort blend seamlessly. Indulge in the hotel's exceptional amenities, from rejuvenating spa treatments to exquisite dining experiences. Whether lounging by the poolside, exploring Marrakech's cultural treasures, or simply reveling in the luxurious ambiance of the hotel, Four Seasons Marrakech promises an unforgettable experience that complements the sensory delights of this remarkable city.
Buenos Aires, Argentina – Tango into Spring:
October in Buenos Aires marks the onset of spring, infusing the city with energy and vitality. Immerse yourself in the vibrant streets of historic neighborhoods like La Boca and San Telmo, where colorful facades, cobblestone streets, and lively tango performances transport you to another era. Admire the grandeur of Teatro Colón, one of the world's most prestigious opera houses, and delve into the vibrant street art scene in the trendy neighborhood of Palermo. Immerse yourself in Argentina's rich cultural heritage by visiting renowned museums like the MALBA and the Museo Nacional de Bellas Artes. Indulge in the city's famed culinary delights, savoring sizzling Argentine steaks and delectable empanadas, while sampling world-class wines in trendy wine bars and traditional bodegas. As night falls, surrender to the passion and rhythm of tango at one of Buenos Aires' iconic milongas, where the dance of love takes center stage. Buenos Aires invites you to embrace the spirit of spring and surrender to its seductive charm.
To enhance your Buenos Aires experience, discover a haven of refined luxury at Palacio Duhau – Park Hyatt Buenos Aires. Nestled in the heart of the city, this historic palace turned five-star hotel seamlessly blends classic elegance with contemporary sophistication. Immerse yourself in the grandeur of meticulously restored neoclassical architecture, which serves as a testament to the city's rich history. Indulge in modern comforts and world-class service as you explore the hotel's exquisite amenities. Whether lounging in luxurious accommodations or dining at the hotel's exceptional restaurants, you'll be surrounded by an ambiance of refined luxury. From the moment you step into Palacio Duhau – Park Hyatt Buenos Aires, you'll be enveloped in a world of elegance and timeless beauty, ensuring an unforgettable stay in this captivating city.
Bali, Indonesia – Tropical Tranquility and Festive Celebrations:
In October, Bali, the Island of the Gods, welcomes visitors with its tropical charm and a delightful blend of cultural festivities. As the wet season draws near, the island is bathed in lush greenery, creating a picturesque backdrop for your adventures. Immerse yourself in the vibrant streets of Ubud, Bali's artistic and cultural hub, where traditional markets, ancient temples, and captivating dance performances await. Explore the iconic rice terraces of Tegalalang, where cascading emerald fields offer a mesmerizing sight, and venture into the breathtaking beauty of the sacred Monkey Forest, a mystical oasis teeming with wildlife. Indulge in the island's renowned spa and wellness retreats, where ancient healing traditions and serene surroundings rejuvenate your body and soul. Immerse yourself in the spiritual rituals and colorful processions during Galungan, a major Hindu festival celebrated in October, as the streets come alive with vibrant decorations and traditional performances. For beach lovers, Bali's pristine shores offer opportunities for relaxation and exciting water activities, ensuring a well-rounded and memorable experience in this tropical paradise.
To fully embrace the enchanting beauty of Ubud, Bali, escape to Mandapa, a Ritz-Carlton Reserve. Nestled in the heart of this cultural haven, the resort offers a sanctuary of serenity surrounded by lush rice terraces and the gentle flow of the Ayung River. Immerse yourself in the luxurious accommodations, where traditional Balinese design seamlessly blends with modern comforts, creating an atmosphere of tranquility and elegance. Indulge in the resort's exceptional amenities, including world-class dining experiences, rejuvenating spa treatments, and immersive cultural activities. Allow Mandapa to guide you on a journey of discovery, where the beauty of Bali's natural landscapes harmoniously merges with the richness of its cultural heritage. Experience the true essence of Ubud at Mandapa, a Ritz-Carlton Reserve, where every moment is designed to create lasting memories in this idyllic paradise.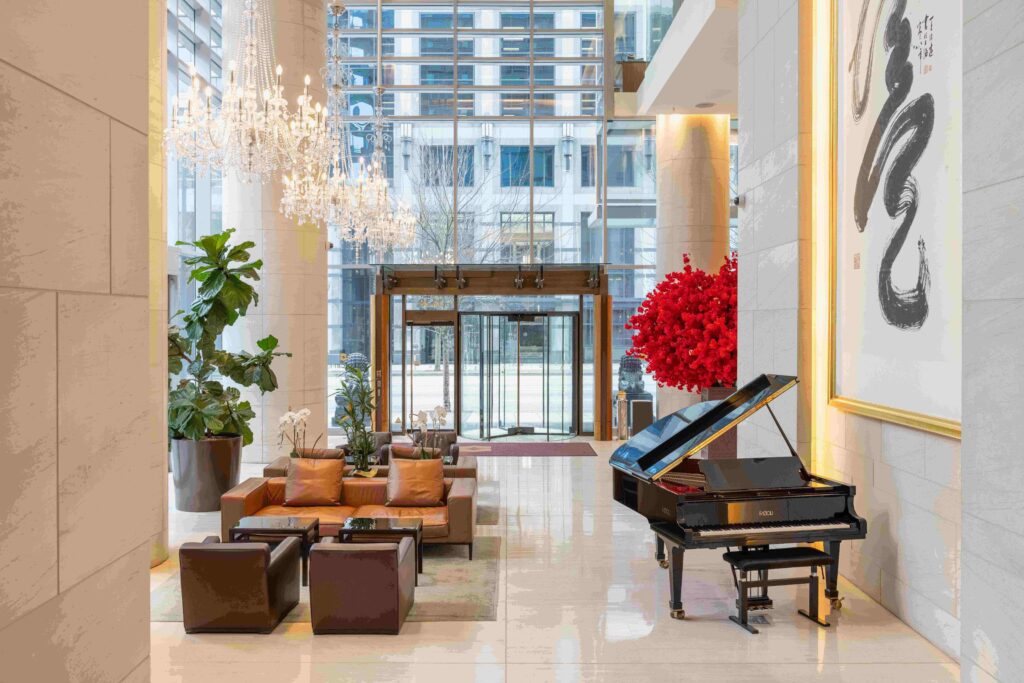 Vancouver, Canada – Nature's Symphony:
Embrace the vibrant colors and enchanting flavors of Vancouver in October. As the leaves turn brilliant shades of red, orange, and gold, the city is transformed into a picturesque autumn wonderland. Explore Stanley Park, a sprawling urban oasis, and immerse yourself in the breathtaking beauty of nature. Wander along the seawall, taking in panoramic views of the city skyline and the surrounding mountains. Discover the bustling Granville Island Public Market, where local vendors showcase an array of fresh produce, gourmet treats, and handcrafted goods. Savor the flavors of Vancouver's diverse culinary scene, from seafood delicacies to international fusion cuisine, paired with exquisite wines from local vineyards. Experience the city's vibrant arts and culture through galleries, museums, and live performances. Vancouver in October offers a perfect blend of natural beauty, culinary delights, and cultural experiences.
Indulge in a luxurious retreat at the Shangri-La Vancouver, where elegance and sophistication await. Located in the heart of the city, this five-star hotel offers a haven of refined comfort. Immerse yourself in spacious and beautifully appointed rooms and suites, characterized by height, light and space, adorned with modern amenities and panoramic views. Indulge in the hotel's exceptional dining offering, Carlino, where one enjoys cuisine inspired from nature's bounty across British Columbia, while staying true to North Italy's roots. Unwind at CHI, the spa, where rejuvenating treatments and tranquil ambiance provide a sanctuary of relaxation. The hotel's prime location provides easy access to Vancouver's renowned attractions, from Stanley Park and Gastown to vibrant neighborhoods and shopping districts. Whether you're seeking outdoor adventures, cultural explorations, or simply a luxurious retreat in the heart of the city, Shangri-La Vancouver ensures an unforgettable stay, complementing the vibrant charm of Vancouver in October.
October offers a diverse array of enchanting destinations that promise unforgettable travel experiences. From witnessing nature's masterpieces in Kyoto and embracing the charm of Cape Town to immersing yourself in the sensory delights of Marrakech and dancing to the rhythm of Buenos Aires, these destinations offer captivating cultural experiences and natural wonders. Whether you seek tranquility amidst tropical beauty in Bali or wish to be awe-inspired by Vancouver's autumn splendor, there is a destination that will ignite your wanderlust.
Don't let this opportunity pass you by. October beckons with its captivating colors, vibrant festivities, and cultural richness. Let us guide you towards the perfect destination where you can experience the magic of this enchanting month. Embrace the beauty, indulge in new experiences, and create lasting memories that will leave you yearning for more. Contact The Luxury Travel Agency today and let your October adventure begin.