Situated in the pulsating heart of Indonesia's capital, The St. Regis Jakarta radiates sophistication and luxury. A prime choice for discerning travelers from abroad or even from Jakarta itself. Embodying the epitome of luxury, The St. Regis Jakarta boasts meticulously designed rooms and suites offer the true elegance and sophistication. Indulge in culinary delights at Lumen or savor afternoon tea at the charming Drawing Room. Rejuvenate at the spa, take a dip in the pool, and enjoy personalized service, including the legendary St. Regis Butler. Strategically located in Jakarta's bustling hub, the hotel seamlessly blends opulence with accessibility, making it the perfect choice for both business and leisure travelers alike. And, when you book with The Luxury Travel Agency, you are guaranteed an extraordinary experience.
Immerse Yourself in Elegance at The St. Regis Jakarta
Step into a world of refined luxury as you cross the threshold of The St. Regis Jakarta's grand lobby, a space adorned with exquisite artwork and opulent decor. From this moment, an enchanting ambiance surrounds you, setting the tone for an unparalleled stay.
Each room and suite within the hotel is a testament to meticulous design, offering guests an extraordinary level of comfort. Lavish furnishings, a curated selection of modern amenities, and an elegant urban setting characterize the interior spaces, creating an oasis of sophistication. The St. Regis Jakarta promises a luxurious retreat, where every detail has been thoughtfully considered to elevate your experience. Embrace a stay where opulence meets comfort, and where each element contributes to an atmosphere of timeless elegance.
Culinary Delights at The St. Regis Jakarta
Embark on a culinary odyssey at The St. Regis Jakarta, where the fusion of world-class dining and unparalleled hospitality redefine the art of indulgence. In the heart of the city, guests can experience the epitome of luxury at The St. Regis Bar, recognized as one of the world's 50 finest bars. Here, the hotel's hallmark service seamlessly blends the discrete with the theatrical, offering visitors exclusive beverage rituals, handpicked glassware, and the soulful melodies of live jazz.
For a delightful gastronomic escapade, venture into Rosé Gourmand Deli, a unique dining outlet that marries design and style with comfort and convenience. This rare gem in Jakarta's culinary scene serves as a neighborhood deli and confectioner, offering a diverse selection of cold cuts and an array of cheeses. It's not just a dining experience; it's a journey through meticulously curated flavors that elevate your palate.
To round off your culinary exploration, Bel Étage, the hotel's all-day dining restaurant, beckons with a tour of Jakarta's diverse culinary landscape. Without leaving your table, sample timeless classics from across the archipelago, each dish representing Indonesia's rich multicultural heritage. Paired with a selection of fine wines from the hotel's vault, Bel Étage promises a gastronomic adventure that captures the essence of Jakarta's vibrant culinary tapestry. At The St. Regis Jakarta, every dining experience is a symphony of flavors and a celebration of the extraordinary.
Unwind in Bliss at The St. Regis Jakarta
The St. Regis Jakarta goes beyond being a mere destination; it transforms into a genuine sanctuary for relaxation. Within its lavish environs, guests are welcomed to rejuvenate their minds and bodies at the spa, where an array of indulgent treatments awaits. The spa experience is elevated in this haven, featuring six treatment rooms, including two tailored for couples, all nestled in a facility that seamlessly fuses understated sophistication with opulence.
This retreat of tranquility offers an extensive selection of wellness experiences, ranging from soothing massages and invigorating body scrubs to rejuvenating facials. Whether seeking solace individually or indulging in shared serenity with a partner, the spa promises an escape into a realm of unparalleled rejuvenation. To complement these bespoke treatments, the hotel spa is equipped with a sauna, steam room, and whirlpool, providing an immersive relaxation experience that transcends the ordinary.
For those inclined towards a wellness-oriented escape, The St. Regis Jakarta extends its commitment to revitalization with additional offerings. The hotel's swimming pool and fitness center provide the perfect balance, allowing guests to further enhance their well-being against a backdrop of refined luxury.
Unrivaled Amenities at The St. Regis Jakarta
At The Luxury Travel Agency, we understand the importance of enhancing your stay with exclusive amenities. When you book through us, you gain access to a host of privileges, including personalized welcome amenities, complimentary room upgrades (subject to availability), hotel credit, VIP status and much more. We can arrange your transfers, all your dining experiences and range of activities and tours. No trip is too big or to small, we work with all lengths of stay and all types of travel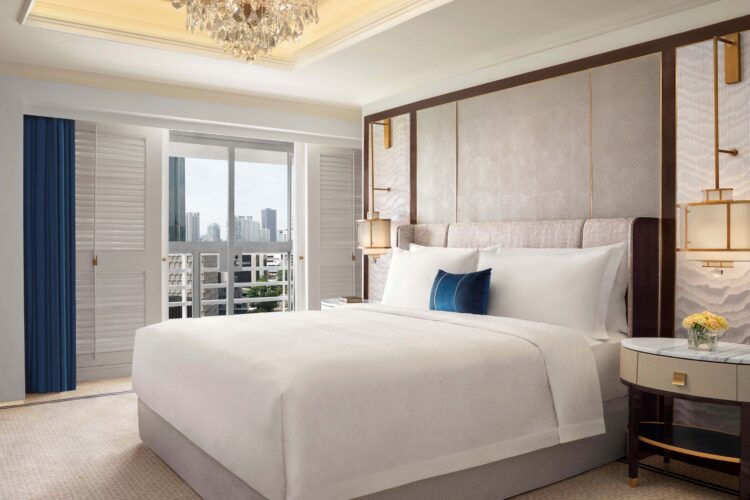 Personalized Service at The St. Regis Jakarta
At The St. Regis Jakarta, personalized service stands as a hallmark, with a dedicated staff committed to exceeding expectations. Central to this commitment is the legendary St. Regis Butler Service, an iconic offering that transforms a guest's stay into a symphony of bespoke luxury. From the moment individuals enter the grand lobby, these butlers anticipate every need, ensuring that each detail, from unpacking to pressing attire, is seamlessly taken care of. This dedication to personalized service, embodied by the St. Regis Butler Service, sets The St. Regis Jakarta apart, creating an atmosphere of unparalleled hospitality and making each guest's stay a testament to the artistry of luxury living.
Explore the City from The St. Regis Jakarta
Book Your Unforgettable Stay at The St. Regis Jakarta
Discover the epitome of luxury at The St. Regis Jakarta with The Luxury Travel Agency. Our exclusive partnership ensures that your stay is not only seamless but also enhanced with special privileges and amenities. Immerse yourself in a world of elegance, culinary delights, and unmatched service – an experience that goes beyond the ordinary.
Embark on a journey of luxury with The St. Regis Jakarta and The Luxury Travel Agency, where every moment is an affirmation of the finer things in life. Contact The Luxury Travel Agency today to book your stay at The St. Regis Jakarta and get set for a customized and tailored stay at this luxurious, five-star hotel in Jakarta! And remember, when you book any St. Regis hotel or resort of any of our over 2,000 Partner Hotels, you get great amenities such as room upgrades when available, daily breakfast, USD 100 hotel credit, VIP Status and more!