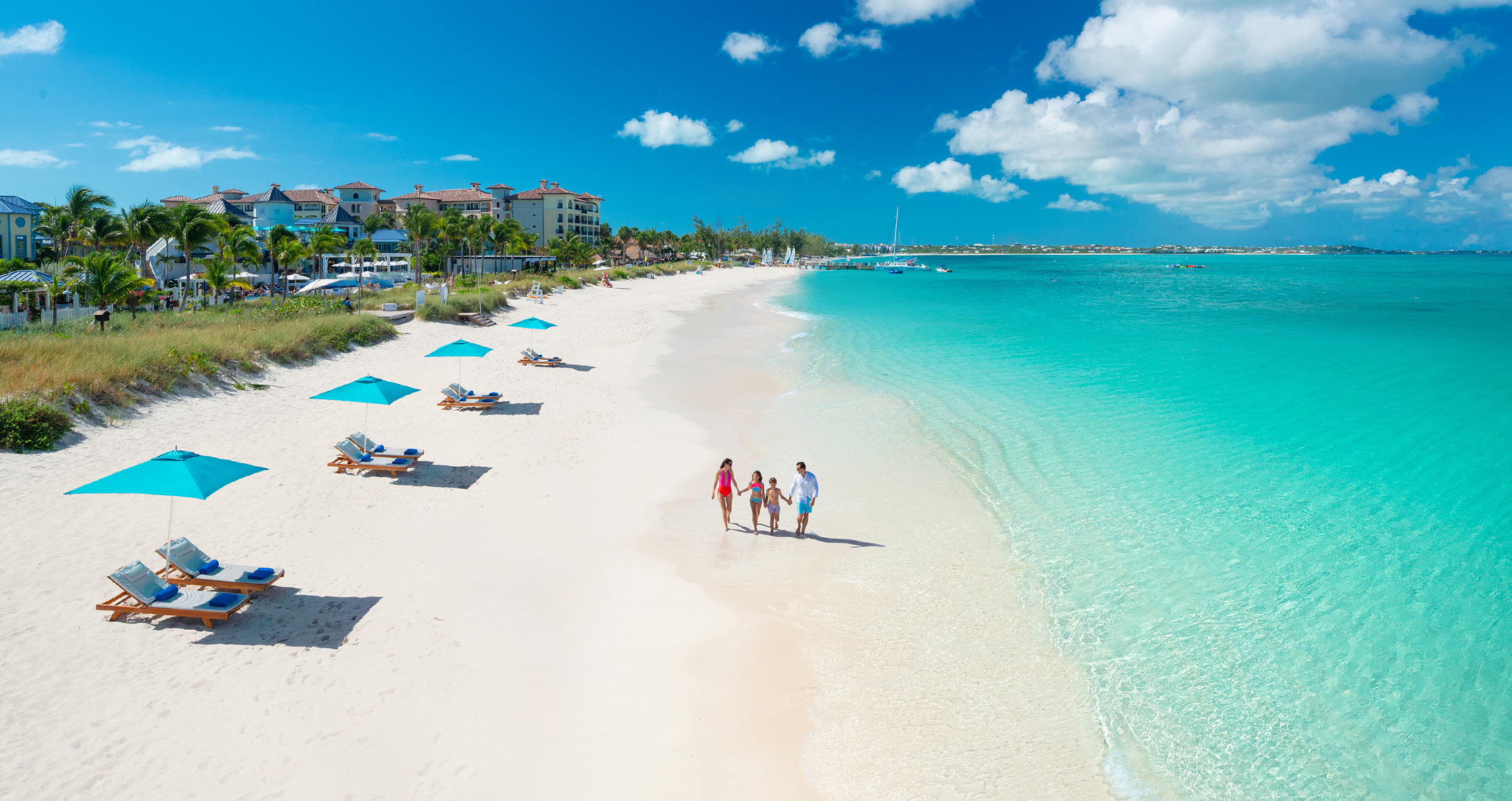 Why visit the Turks and Caicos Islands
The Luxury Travel Agency highly recommends visiting the picturesque island of Turks and Caicos if you are looking to get away from it all and truly experience white sandy beaches, and the most spectacular turquoise and crystal clear blue waters you can hope to imagine, then this will be the island for you. The Luxury Travel Agency works with the best resorts in Turks and Caicos, so you can be confident that you will have 5-star service at any of our Partner Hotels.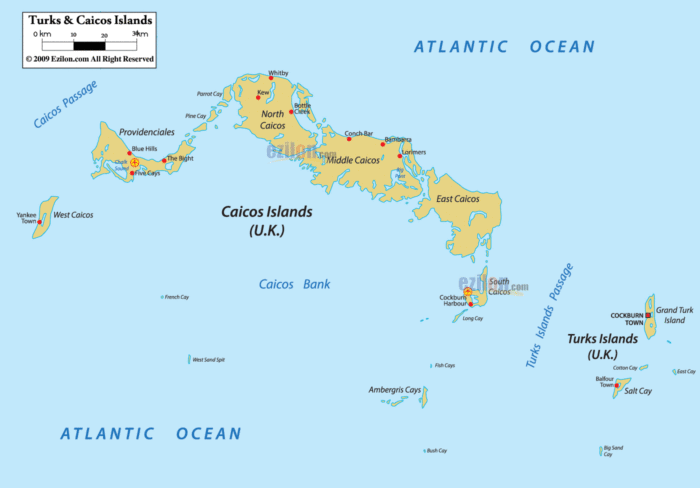 Turks and Caicos Islands is made up of 6 primary islands – West Caicos, Providenciales, North Caicos, Middle Caicos, East Caicos and South Caicos. Primarily the best resorts in Turks and Caicos are on the Providenciales islands, which is also where their international airport is located, which is less than a 2-hour flight from Miami. It is a direct flight and an easy island to get to!
The Turks and Caicos Islands are more of a quiet destination as compared to some other Caribbean Islands. Most of the activities that are offered here will be water activities, with a truly endless supply of possibilities.
If you are more of a land-lover, horseback riding here is a must, fulfil your dreams of riding on the beach and into the shallow waters with a backdrop of white sand and turquoise water, the Turks and Caicos Islands is one of the best places in the world to offer this unique experience.
The island is perfect to visit year-round, with summer temperatures ranging from 29-32 Celsius and winter months ranging from 24-27 Celsius, you will have perfect beach weather year-round, and all the best resorts in Turks and Caicos Islands sit right on the Caribbean Sea so you will be able to take a dip in the water to cool down, just steps away from your resort!
The best luxury resorts in the Turks and Caicos Islands
Below is a list of the best resorts in the Turks and Caicos Islands and all of them are partners with The Luxury Travel Agency in which you will receive a wide variety of benefits and amenities.
Amanyara, Turks and Caicos
Nestled on over 18,000 acres along the pristine reefs of Northwest Point Marine National Park with 59 stand-alone pavilions and villas sits the tranquil and soothing resort, Amanyara. Each pavilion and villa encompass an indoor/outdoor living experience and comes with its own terrace and sundeck. Like other Aman Resorts, this property has Asian signature touches throughout, with beautiful wood exposed through each pavilion or villa, topped off with taupe and cream touches.
Some of The Luxury Travel Agency's favorite pavilion categories are the Deluxe Pool Pavilion, Ocean Cove Pavilion or the Amanyara Pavilion. If you are looking for privacy, we recommend booking the Deluxe Pool Pavilion, you will feel like you are staying in the middle of Bali here, so quiet and peaceful. The rooms are decorated with beautiful wood, cream-colored accents and an uber-comfy king bed. This pavilion looks into your private yard, with your own private pool that no-one can see.
If you would rather have the ocean view than we would recommend booking the Ocean Cove Pavilion, these pavilions offer sweeping views of the ocean and each with its own pathway leading to the sea, so you can dip your toes into the water just steps from your room!

If you want both the pool and the ocean view make sure to book the Amanyara Pavilion (there is only one at the resort) this pavilion comes with thrilling elevated sea views, a private T-shaped pool and it overlooks a private garden while at the same time offering stunning sea views.
Traveling with a family to the Turks and Caicos Islands?
If you are traveling as a family, not to worry as Amanyara also offers private villas ranging from 2-6 bedrooms. Each bedroom has its own individual pavilion but all come with a large living room, extensive lounging and dining areas and a private pool. Each villa also comes with a golf cart and your own personal dedicated chef and housekeeper, so you will have everything you need in your own villa. Some villas offer direct beach access while others offer dazzling sea views.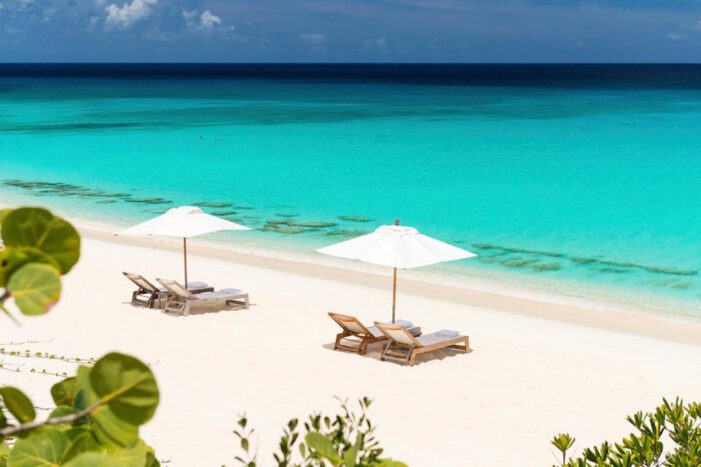 The beach at Amanyara offers you the most exquisite calm and turquoise waters you will ever witness, a great place to get out and enjoy some water activities. At night you must book a private dinner on the rocks and watch in amazement one of the most spectacular sunsets you will ever get to witness in your life.
Located around the main reflecting pond is Amanyara's collective area including the library; lobby, restaurant and bar, which are all immaculately designed and give you a sense of a zen experience.
Looking for a lot of options in the Turks and Caicos Islands?
Grace Bay Club, Turks and Caicos
The sophistication of the white sand beaches and crystal blue clear water on the ever famous Grace Bay Beach is where you are going to find the Luxury resort, Grace Bay Club, an all-suites hotel, voted time-and-time again, one of the best resorts in Turks and Caicos. This iconic hotel is broken down into three different sections; The Hotel Building, which is an adult-only section, The Villa Suites and the Estates.

The Hotel Building, the adults-only hotel section, features suites spread out over three floors and has its own adult-only swimming pool. This is quite the romantic retreat for couples. The rooms here are very spacious, starting from 1080 sq. ft and offer boasting sea views.
The Villas and Estate section are the family-friendly sections of the resort and are open to guests of all ages with their own pool. Please note that the Estate Pool is only for guests staying in the Estate section of the hotel. The décor throughout all hotels are grey pallets and offer modern elegant furniture with stiped and shaped patterns throughout. The openness of the rooms will make the space feel really large.
Grace Bay Club also runs their Private Villa Collection, about an 8-minute drive from the resort, these individual stand-alone private villas feature 5-bedrooms, direct beach access and come with many amenities such as; VIP Meet and Greet at the airport, round-trip transfers, personal concierge services, Daily Breakfast, Start-up bar (rum, vodka, mixers, wine and beer), daily housekeeping services, Private Chef Services, and much more, this would be the ideal location for larger families that want to take advantage of resort amenities but something that offers a little bit more privacy. These villas offer a combined total of indoor/outdoor space of over 6,000 sq. ft and are each elegantly designed, this would be a truly exquisite location for a multi-generational family trip.
With 7 different dining options at this resort, you will not have to venture far to get some exceptional food. Infiniti Restaurant and Raw Bar is the premier gourmet oceanfront restaurant on the island and features the freshest ingredients and sophisticated presentations. If you are looking for something a little bit lighter enjoy the resorts newest pop-up bar "Just Tacos" where you can enjoy some savory tacos right on the beach!
Grace Bay Club also has fantastic kids and teens programs from ages 0-15 (children 4 and under must be accompanied by an adult). For the kids club, your children can enjoy a wide variety of activities such as; crafts, snorkeling, paddle boarding, swimming lessons, a playground and much more, they can even partake in evening events such as stargazing, glow worms and a beach bonfire. For your teenagers they can enjoy activities such as; watersports, sunset reggae events and, evening bonfires. If they are looking for something a little more comprehensive, they can also try Scuba, wakeboard and waterski lessons.
Need something more remote and eco friendly in the Turks and Caicos Islands?
Parrot Cay by COMO,Turks and Caicos
Located on its own island, around a 25-minute boat ride from Providenciales lies the charming ultra-luxurious resort Parrot Cay. A truly magnificent resort with one of the best white sand beaches that Turks and Caicos has to offer. This is truly a resort for someone who wants to be away from everyone and everything, and just be able to enjoy themselves. You will truly feel like you are in paradise staying at this resort.
Your Parrot Cay experience will begin before you reach the island. You are picked up from the airport and will be escorted to the Leeward Marina. Once you arrive at the marina a staff member will welcome you with a refreshing drink and snack and will complete the check-in process there. Then you will board the boat and head over to your very own private island.
The resort has a high focus on health and wellness. Wellness by Como Shambhala offers holistic, Asian-inspired treatments including; Ayurveda, aromatherapy, spiritual balance Japanese baths, and much more. The ambience of the spa is really soothing and relaxing. They offer a wide variety of treatment options as well including; massage therapy, body therapy, facial care, mind and body discipline and more. If you are staying here you must take advantage of the wonderful spa and the different treatment options.
For couples staying at this resort, The Luxury Travel Agency highly recommends booking the One Bedroom Beach House. These semi-detached beach houses look directly on white sand dunes and offer you direct access to the ocean. The large indoor living area opens up onto a huge sundeck with a private heated pool. The rooms are decorated with contemporary soft white colors and a majority of the rooms have vaulted wood ceilings that are a light color to make the space feel lighter and airier. If you are looking for a little more romance the hotel can arrange a private lunch or dinner for you on the beach.
Just because you are on a private island, don't feel like there still isn't a wide variety of adventure for you! Guests staying at Parrot Cay can enjoy activities such as; tennis, diving, snorkel eco-tour, boat tour to nearby islands, scuba diving, biking, and so much more. On this private oasis you can spend your time relaxing in your room, the beach or, the pool. If you are feeling adventurous you can get out and enjoy the open waters!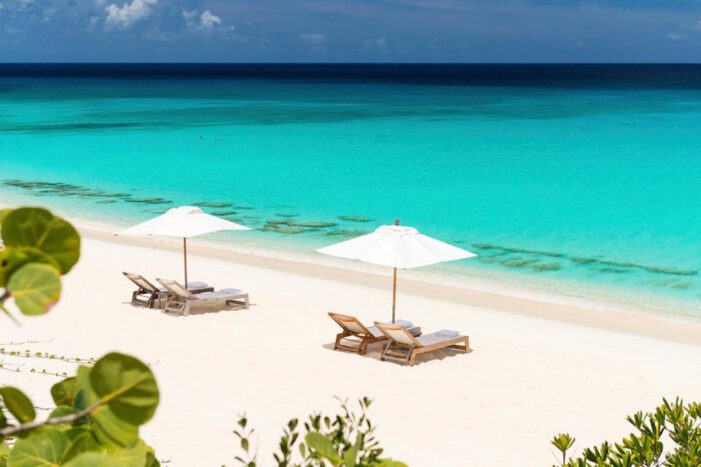 Contact the Luxury Travel Agency today and book your next trip to the Turks and Caicos Islands or to book or plan any trip anywhere in the world. Our team is ready!
If you like luxury travel, check out these luxurious properties we partner with around the world.
Follow this link to see current promotions at our Partner Hotels and Resorts in the Turks and Caicos.
Ready to see more luxury resorts and hotels?
For more information on some of our top luxury properties, check out The Luxury Travel Agency's Top Luxurious Properties.