Favorite Luxury Hotels in Scottsdale
Located approximately 25-minutes northeast of the state capital of Phoenix, Scottsdale is a desert city in Arizona.  Scottsdale is highly known for it's sprawling golf courses, spa resorts, five-star hotels and high-end boutique shops. If you are looking for the ultimate, luxury getaway with tons of pampering, then Scottsdale is the right place for you. With many of the best 5-star hotels to choose from, you will be able to find the perfect luxury hotel to suit your needs!
Favorite Luxury Hotels in Scottsdale, #1 Andaz Scottsdale
Andaz Scottsdale Resort & Bungalows is an experience in luxurious cultural immersion. celebrating all things local with a mix of posh sophistication and a decidedly convivial spirit.  Since the earliest of times, Arizona has been a place where art and nature co-exist without boundaries. The decor, design and heart of Andaz reflect an environment open to possibilities — mixing of the old and the new with classic style and innovative amenities.
There is a spectacular view of Camelback Mountain and lush landscaping that traverses throughout the 23-acre property. It's this absence of boundaries that embodies the Andaz experience — inclusive, relaxed, stylish, creative. You are guaranteed to be relaxed and at home here at this luxury hotel in Scottsdale.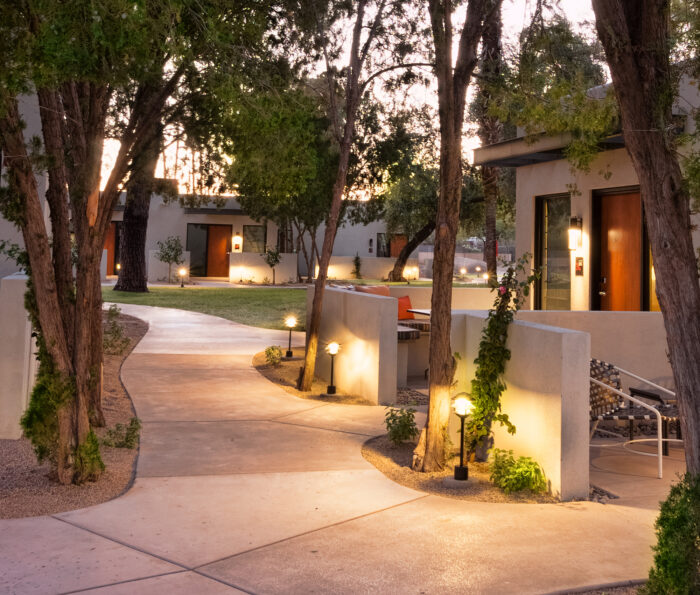 Andaz Scottsdale Resort & Bungalows, A Partner Hotel of The Luxury Travel Agency
185 guest rooms and suites are housed in low-slung bungalows.  Each has its own front terrace and many have Mangaris wood-accented private patios, updated exterior furniture, and outdoor showers. Brightly colored and fully cushioned banco seating and teak tables are perfect for enjoying morning coffee or an evening drink.
Weft & Warp Art Bar + Kitchen contains a glass-enclosed showcase kitchen, which is an electrifying invitation to a culinary arts experience that evokes sociable gatherings where everyone certainly ends up hanging out in the kitchen. The open feel (and more stunning views of the pool with Camelback Mountain as a backdrop) features a kitchen table and high, countertop tables surrounding a plancha where Executive Chef Nate Larsen offers small bites and sharable plates that reflect local inspirations and ingredients in totally new ways. The restaurant's serving pieces continue the artisanal theme, as many are handmade by Cattle Track ceramic artist Mary Van Dusen.
For the best in personalized spa treatments, Palo Verde Spa & Apothecary is a space drawing inspiration from the artistic culture of the Sonoran Desert that seeks to reuse and repurpose wherever possible. Every treatment and product comes from native plants and centuries of holistic knowledge, utilizing the natural, healing powers of the earth's most sacred reserves. With the aid of technology, our apothecary team work with you to create a tailored blend of desert botanicals and aromatics carefully selected by a local Sedona botanist and combined to align yourself with your wellness goals.
Favorite Luxury Hotels in Scottsdale, #2 The Phoenician
Ahhh, the Phoencian! Nestled at the base of the magnificent Camelback Mountain in Scottsdale, Arizona, the AAA Five Diamond Phoenician rises above it all to offer guests with a tailored experience wrapped in modern luxury. Here, a varied collection of signature amenities awaits your arrival. Treat yourself to the nurturing spirit of the Forbes Five Star Phoenician Spa, state-of-the-art Phoenician Athletic Club with tennis and fitness center, as well as a rejuvenating multi-tiered pool complex with airy cabanas.
Find the best offerings such as the recently revamped golf course and quiet Cactus Garden. Make family time unforgettable at the Kids Zone, showcasing a twisting waterslide, treehouse, and splash pad. Embark on a gastronomic journey with the laid-back vibes of Mowry & Cotton, showcasing modern American cuisine prepared using the eternal cooking techniques of fire, coal and smoke; the spectacular views, Sonoran-inspired cocktails and small bites at the reimagined Thirsty Camel; the welcoming and comfortable Phoenician Tavern, presenting elegant pub grub — as well as the fun of Dueling Pianos every Saturday night; and J&G Steakhouse, with its delectable fare set amidst a savory atmosphere.
Located within a luxurious, tropical landscape encircled by the unique beauty of the American Southwest and complemented with the highest possible standards of service, The Phoenician rises above the everyday to inspire your each and every moment.
Favorite Luxury Hotels in Scottsdale, #3 The Canyon Suites at the Phoenician
Embracing the magnificence of the legendary Sonoran Desert, The Canyon Suites at The Phoenician is an unparalleled resort-within-a-resort nestled at the base of Camelback Mountain in Scottsdale, Arizona.  Here, picturesque landscapes accent gentle afternoons spent in the refreshing, private infinity pool complemented by a wonderfully designed cabana; while the attentive service of a Canyon Ambassador guarantees an unforgettable experience curated specifically to each guest's wishes.
Allow Arizona's leading AAA Five Diamond and Forbes Five Star hotel to nurture the soul with unmatched luxurious accommodations for your most important moments. Soothe the soul with an inspirational view from a welcoming, roomy suite and private balcony.  Revel In a tempting assortment of signature drinks, such as innovative, craft cocktails at The Canyon Lounge.
Expand your horizons with access to the amazing amenities of The Phoenician, including the Forbes Five Star Phoenician Spa, high-tech Phoenician Athletic Club with tennis and fitness center, wonderful golf and diverse culinary options — from the bold flavors of Mowry & Cotton, to the mouthwatering fare of J&G Steakhouse.
Stay anew at The Canyon Suites, where each moment is uniquely designed to capture the fantasy of even the most discriminating traveler.
Favorite Luxury Hotels in Scottsdale, #4 Sanctuary on Camelback Mountain
The Sanctuary on Camelback Mountain is tucked away in the red rock desert panorama of Arizona.  This is where celebs and stars have long gone to get away from it all in style surroundings to soak up the energizing sunshine by day and relax and chill at night.
This magnificent property offers one of the most unique resort experiences in the country. Whether you're looking for a peaceful haven or an adventure-filled escape, the Sanctuary's 53-acres on the northern slope of the famed Camelback Mountain is the only place to be!
A boutique property, the Sanctuary on Camelback Mountain, hits the perfect balance between resort living and a home away from home with its sophisticated range of expansive casitas, large suites, and nine private villas.
Inside the collection is fascinating interior design details such as desert-inspired artwork and local photography, as well as relaxed touches like roomy seating areas, layered lighting, outdoor balconies, and well-appointed bathrooms outfitted with the all-important, oversized soaking tubs.
With an enthusiasm for the freshest ingredients, Food Network star and Executive Chef, Beau MacMillan, has led the resort's dining to a gastronomic new level. Elements restaurant offers delectable, garden-fresh American cuisine, while jade bar is the best place to toast the Arizona sunsets with refreshing, innovatively designed hand-crafted cocktails.
The indoor-outdoor Sanctuary Spa focuses on relaxation and well-being by providing a menu of revitalizing Asian-inspired spa treatments, lap pool and tennis courts, which makes it one of the top destination spas in the US!
For the more energetic, tap into the power of the desert and discover Camelback Mountain on a guided hike or bike tour.
With breathtaking desert views in every direction and days of sunshine exceeding 300 days a year, Sanctuary is what photo-sharing was made for – spectacular scenery and inspirational experiences. Even with its lovely 'away from it all' setting, the resort is conveniently situated just eight miles from Sky Harbor International Airport and five minutes from Old Town Scottsdale, where you'll find the plethora of chic and boutiques, art galleries and golf.
Whichever luxury resort or luxury hotel in Scottsdale you chose, The Luxury Travel is ready to take your trip to the next level of sublime!  While all properties mentioned are great, its the little touches we can add that will make all the difference in your experience.
A little bit about The Luxury Travel Agency.  We are a boutique agency based in Toronto which specializes in luxury travel. We can do anything from a simple hotel booking to complete Trip Consultation and Planning. We partner with over 2,000 of the best luxury hotels and resorts around the world which means we can offer our clients an array of added amenities and benefits such as:
Room Upgrade when available

Daily Full Breakfast, up to two guests

USD 100 Hotel Credit 

Early Check-In/Late Check-Out, when availability

Complimentary Wi-Fi

Custom Welcome Amenity

VIP Status
The amenities and benefits vary from property to property, but we always do our best to get you the most value for your money and make sure your stay is as perfect as possible. 
Follow this link to see current promotions at our Partner Hotels and Resorts in Arizona.