If you are looking for an island getaway that will give you a great sense of history, culture, ocean, mountains, waterfalls, tropical rain forest and tons of activities to do, then look no further as Puerto Rico is the perfect island for you! Since Puerto Rico is a U.S. territory getting there is not going to be a problem at all, there are tons of flights from the U.S. to get you there in no time. You can leave in the morning and be at the resort in time for lunch to enjoy the remainder of the afternoon there!
The Luxury Travel Agency highly recommends Dorado Beach, a Ritz Carlton Reserve. If you are looking for an exotic sanctuary tucked away from other resorts and offers the best service, than this is the resort for you. Dorado Beach is located 45-minutes outside of the San Juan airport and really easy to get to. The resort went through a huge facelift in 2017 and all guestrooms and suites now have a light, contemporary color palate.
All rooms and suites have an ocean view and a majority of the rooms have infinity plunge pools. We recommend booking a suite on the top floor that offers sweeping views of the ocean with a rooftop plunge pool, a great way to escape reality and enjoy a little R&R. With five different dining options on-site you will have plenty of options to choose from to satisfy your appetite. The resort is great for both couples and extended families, with 2-5-bedroom residences on-site, it will be a great place to host a wonderful family vacation. The resort is also home to the Watermill Aquatic Park, with two exhilarating 30-foot water slides, a lazy river with a wave machine and much more. It will be the perfect day to spend with the family.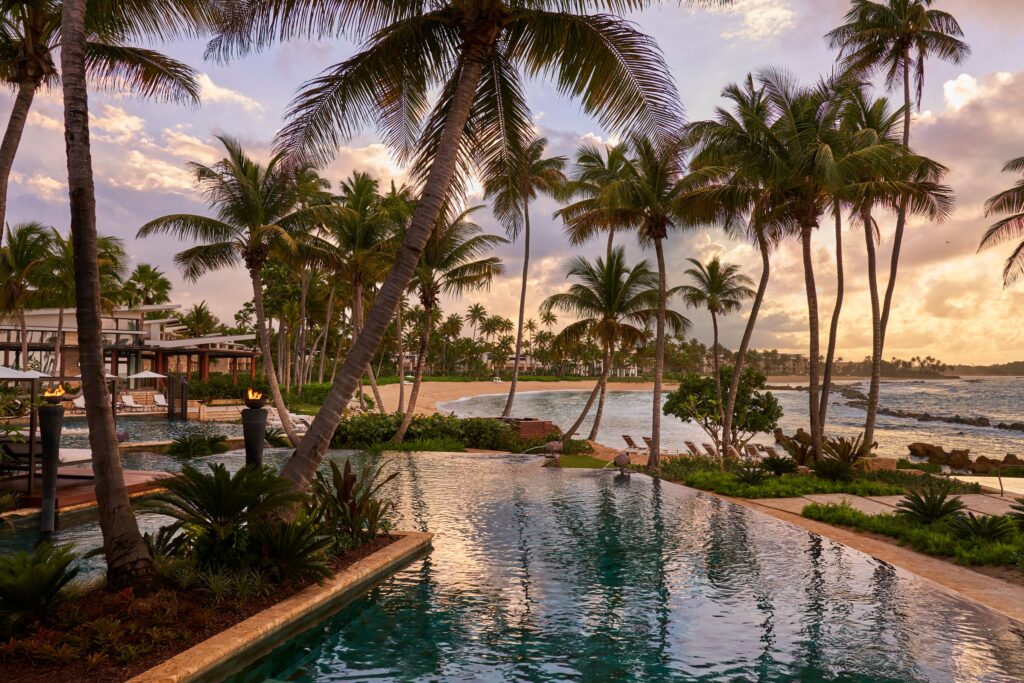 Puerto Rico is an island where you can enjoy a variety of activities such as; rainforest tours, underground cave tours, San Juan city tours, ziplining, ATVing, Horseback Riding, fishing, Rum Distillery, culinary tours, hiking and so much more.
If you are staying in Puerto Rico The Luxury Travel Agency strongly recommends you try the Bioluminescent Bay experience, this natural phenomenon is caused by a microscopic organism called a dinoflagellate that lights up when the water is touched or disturbed, this is truly a magical experience and Puerto Rico is one of the few places in the world where you can witness and partake in this magical experience, and one that you won't regret doing!
Puerto Rico is also home to one of the Caribbean island's cruise ship terminals so if you are planning on taking a cruise out of Puerto Rico then take a few extra days to enjoy and explore this wonderful island. So, what are you waiting for? Pick up the phone now and contact The Luxury Travel Agency for us to assist you in planning your next tropical vacation to this wonderful island!
A little bit about The Luxury Travel Agency. We are a boutique agency based in Toronto which specializes in luxury travel. We can do anything from a simple hotel booking to complete Trip Consultation and Planning. We partner with over 2,000 of the best luxury hotels and resorts around the world which means we can offer our clients an array of added amenities and benefits such as:
Room Upgrade when available

Daily Full Breakfast, up to two guests

USD 100 Hotel Credit

Early Check-In/Late Check-Out, when available

Complimentary Wi-Fi

Custom Welcome Amenity

VIP Status
The amenities and benefits vary from property to property, but we always do our best to get you the most value for your money and make sure your stay is as perfect as possible.